For today's cities and tomorrow's generations.
We're building an electric truck.
We're building an electric truck.
For today's cities and

tomorrows generations.
We have set out to create an all electric truck specifically to be used in and around cities and urban areas. No tailpipe emissions, no engine noise. And without a diesel engine we're also able to completely re-design the cab with a driver-centric approach to make the vehicle safer for drivers, pedestrians and cyclists. The driver seat has literally been placed in the center and the cab lowered to optimise the driver's field of view and to allow easy access on both sides with sliding doors. In short, we're ripping up the design book on urban trucks and starting again.
And yet, everything we do, every decision we make, aims to get this truck ready as quickly as possible. Why? Because the way we transport goods simply must change. Now. For a number of reasons.
For starters, the earth's climate is changing rapidly. Global warming is being caused by greenhouse gases, particularly CO2, and transport is a major contributor. The 2018 IPCC report on climate change tells us that we have approximately 10 years to radically reduce our carbon emissions to avoid the most catastrophic consequences. The fact that we still dig up oil to burn it in billions of combustion engines is, in lack of better words, not ok. It wasn't a good idea back in the 1900s but knowing what we know now, it is not just a bad idea, it's a matter of life as we know it.
0
CO2
A Volta truck is 100% electric with zero tailpipe carbon emissions.
0
NOx
No exhaust means zero noxious emissions like nitrogen oxides.
Secondly, the problem with diesel isn't just carbon emissions, affecting climate change, but toxic pollutants like nitrogen oxide (NOx) and particulates, which can reach very high concentrations in urban areas, harmful to anyone breathing the city air, especially children. This is why cities around the world are imposing ever stricter vehicle emissions regulations with some, like London, beginning to ban many petrol and diesel vehicles. Diesel trucks in cities simply have no future.

By contrast a Volta truck is future-proof.
Going electric means zero carbon tailpipe emissions.
Zero emissions mean access to even the most restrictive of low and zero emissions zones.
Zero engine noise opens up possibilities for night-time use even in busy residential areas. This in turn, both reduces peak-hour traffic and improves delivery time and efficiency.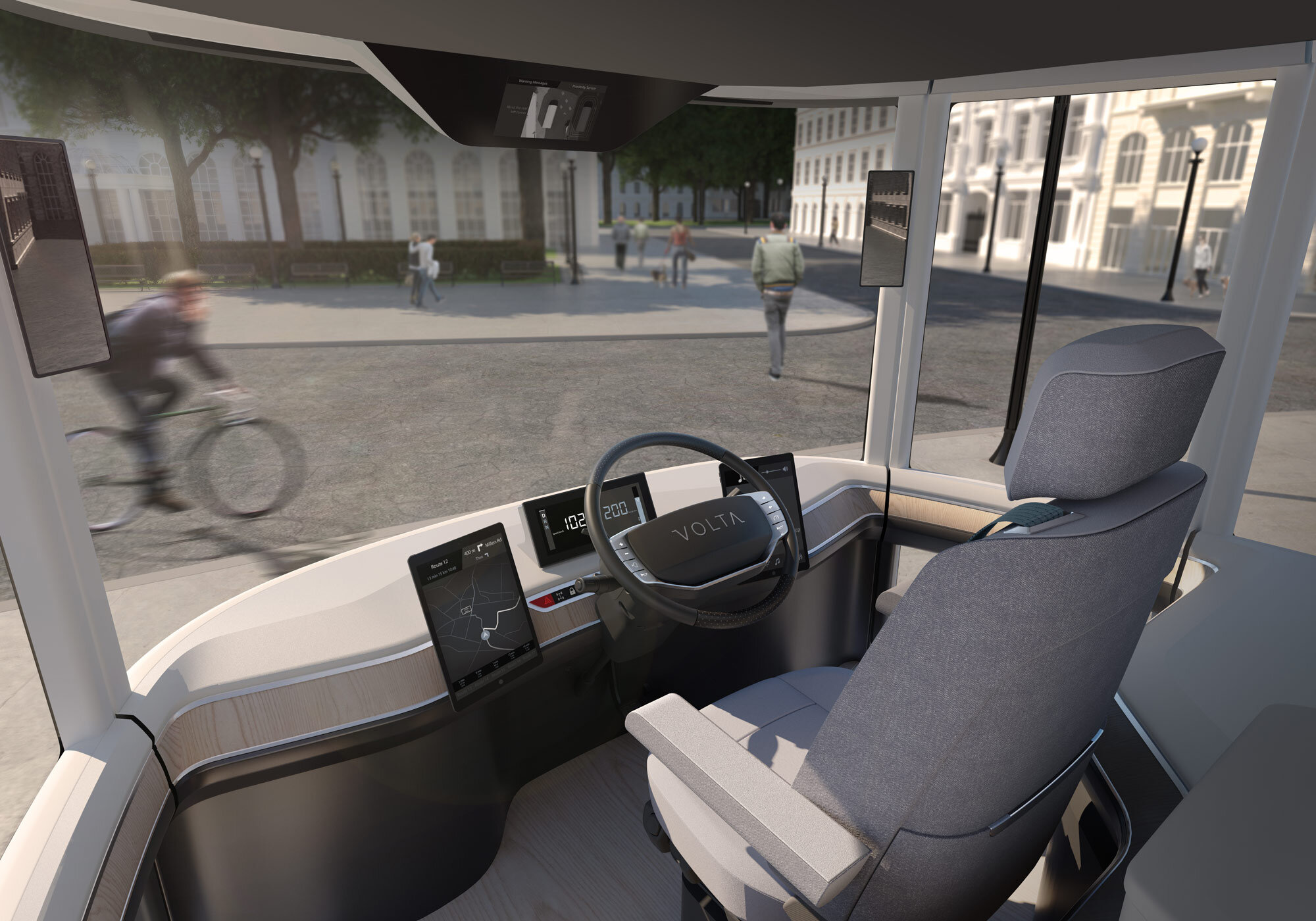 A driver-centric approach
Lastly, did you know that 23% of pedestrian and 50% of cyclist deaths in London involved a Heavy Goods Vehicle, despite HGVs making up only 4% of road miles in London? In many cases, this is caused by driver blind spots and doors that open into bicycle lanes. The average truck from a work environment perspective is also poorly constructed. Drivers are exposed to constant noise, vibrations and fumes, and knee or hip injuries as well as accidents from falling is common due to the unsafe climbing in and out of the truck.

By contrast Volta trucks are designed with a driver-centric approach. Without the need for a bulky diesel engine underneath the driver and with battery packs instead instead placed under the body, we've designed a truck cabin like no other.
The whole cabin has been lowered (much like a bus)

=

no climbing or jumping in and out and a much lower and better field of direct vision.
The driver seat is placed in the centre of the cabin with wrap around windows all around

=

even further increased field of direct vision.
Doors on both sides that slide open alongside the truck

=

safe entry/exit away from traffic.
Sensors and cameras all around the truck

=

zero blind spots.
Lowered cab, reduced vibrations and noise

=

a much better work environment for the driver

=

less migrane, hearing impairment, muscle ache, and yes, sick leave.

We can't wait to show you the latest drawings and images of what we're creating. Please check back in a few weeks, follow us on social media and sign up to our newsletter to stay in the loop.
Manufacturing a new truck using new technologies is no small undertaking. We simply couldn't do this alone. So, we've partnered with some of the very best in the industry to get this show on the road. Here are but a few of the expert minds involved.