DB Schenker is committed to the Deutsche Bahn Climate Neutral Target 2040. To reach this ambitious goal, they are continuously investing in innovative transport solutions such as new Renewable Energies, E-Mobility Fleets and Carbon Neutral Products for their customers. Over the past 15 years, they are consulting with their global DB Schenker customers in regards to their transport carbon footprint visibility, supply chain optimization and modal shift in order to meet their environmental targets. DB Schenker has pre-ordered 1,500 full electric Volta Zero vehicles, the largest order for medium- duty electrified trucks in Europe to date and completed the first on -road test phase of the full- electric Volta Zero in Paris during September 2022.
It was great to see the result live on the streets of Paris. It all started with an idea – now it's a reality and we look forward to adding the first pilot vehicles to the fleet in Europe at the beginning of 2023.

Since the beginning of the cooperation between DB Schenker and Volta Trucks, we have been in close contact and continued to drive the development of the vehicle forward together."
Cyrille Bonjean
Executive Vice President Land Transport at DB Schenker in Europe
DPD aims to be the most sustainable parcel delivery company in the UK and the company already has 3,000 electric vehicles on the road, with plans to have over 40% of its delivery fleet all-electric by the end of this year, when it will also be delivering all-electric only to 30 towns and cities. DPD completed a series of engineering tests with the full-electric Volta Zero, as part of wider Beta Trails for the new 16-tonne vehicle.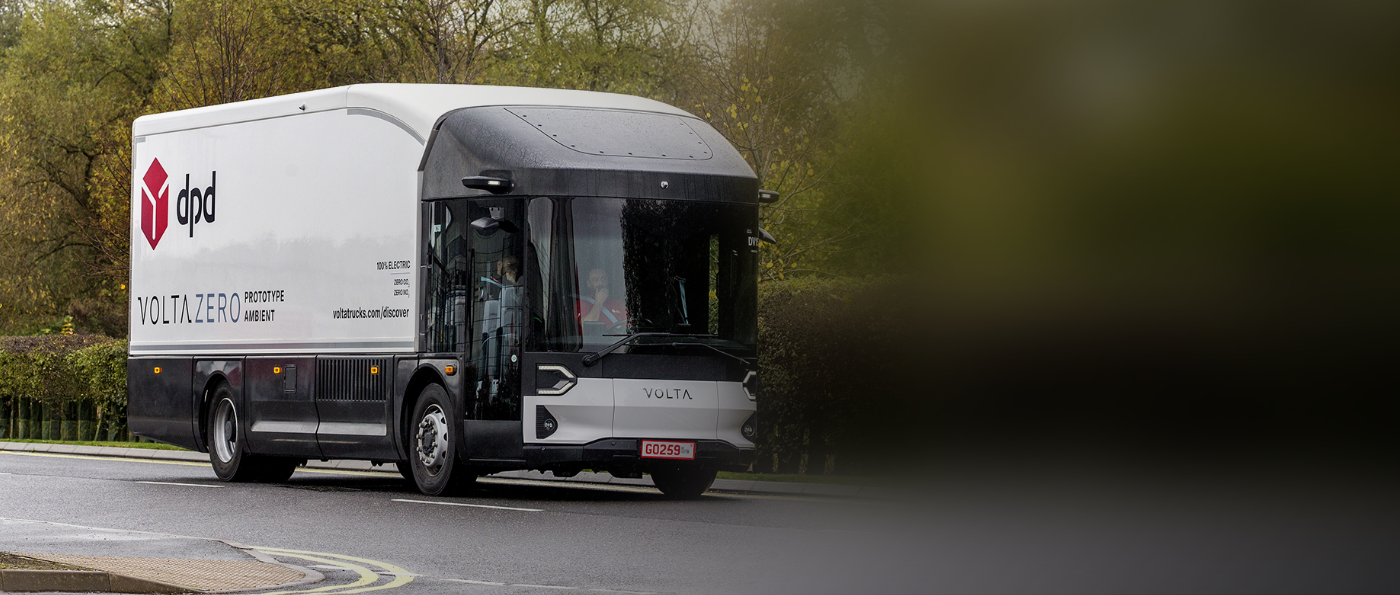 It was fantastic to get our hands on a Volta Zero and put it through its paces, with our own drivers alongside Volta Truck's engineers. We had the truck for five days and it is very impressive.

The Beta trials are an opportunity for us to test the vehicle first-hand, while helping Volta Trucks see exactly how it performs in real- life scenarios and on typical routes".
In 2007, Marks & Spencer launched Plan A, its industry-leading sustainability programme. In 2021, it reinvigorated its approach to sustainability as part of its business transformation programme to restore the M&S business and brand to deliver long-term, sustainable, profitable growth for investors, colleagues and wider communities. M&S and Volta Trucks undertook on-road, cargo-free engineering tests in London during November 2022.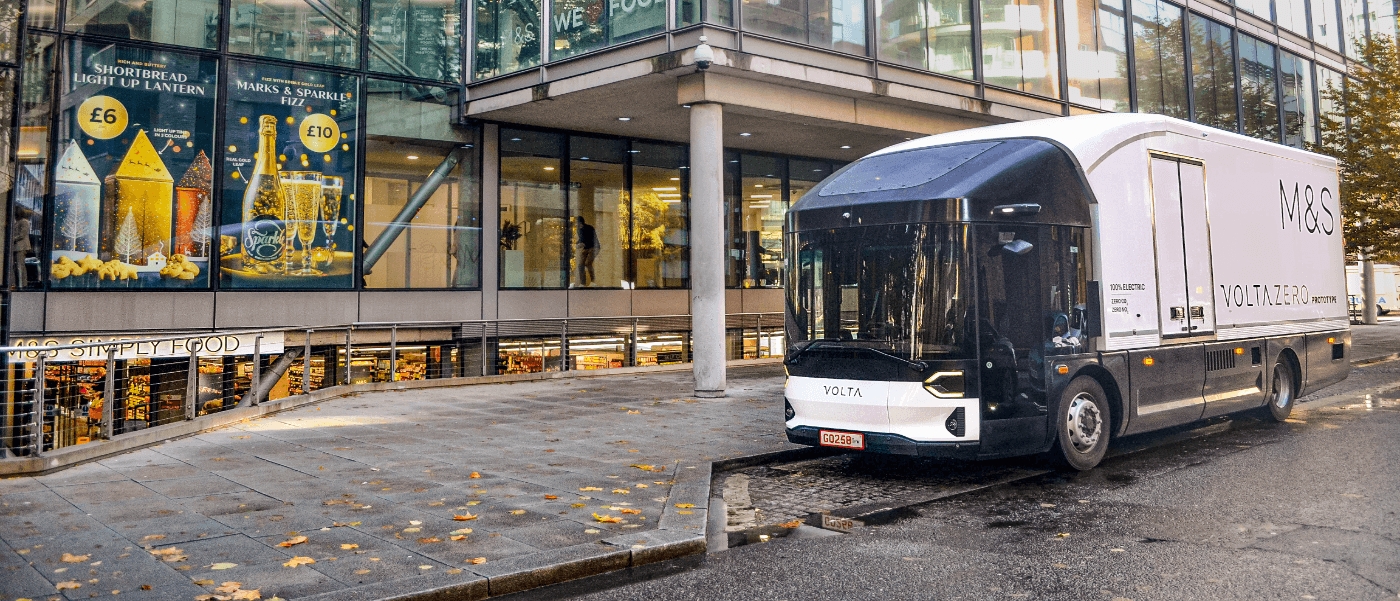 The Volta Zero is clearly a very well thought out design that is not only providing an opportunity to reduce the carbon footprint of mid-range trucks but also improve safety in urban distribution.

With the improved visibility for the driver and easy access it looks and feels very different to the traditional truck design.

In challenging the traditional truck design, I think the Volta Zero will play a part in attracting people to become professional drivers and work in logistics and that the design will be a benefit in learning to drive a large goods vehicle."

Changing the game in sustainability by redefining logistics. GXO promotes sustainability in its operations and corporate infrastructure, creating technology-enabled action plans to reduce emissions, invest in renewable energy and decrease waste. GXO actively partners with customers around the world to help them achieve their sustainability goals while innovating to reduce GXO's own environmental impact. Together with The Crown Estate, GXO took part in engineering tests in an effort to determine how the Volta Zero could contribute to London's Regent Street retail delivery consolidation scheme.
"The feedback from the drivers involved in the testing period was extremely positive and I'm sure we will see similar feedback as we roll the vehicles out across the business. The Crown Estate and GXO are committed to improving the environment for shoppers on the high street – the Volta Zero will play a significant part in reducing emissions."
By equipping themselves with the human resources and tools needed to measure their impact, by investing in a new fleet, and by devising solutions adapted to each territory, Heppner are fully committed to the challenge of the energy transition. Without delay, they want to make more room for the circular economy, respect for biodiversity and act responsibly in cooperation with all players in the transport value chain. Heppner are considering and trialling the Volta Zero for their fleet. Volta trucks announced the first implementation of our Volta Zero with Truck as a Service charging infrastructure to Heppner in December 2022.
Energy transition is a strategic pillar for us, and I am proud to continue building in this direction with Volta Trucks. This first successful trial is the start of a great collaboration in which innovation and agility play a core role." Alongside the ADEME (Agency for the Environment and Energy Control), GT Solutions is one of the first French companies to have signed in 2007, and then in 2012, the charter of voluntary commitments concerning CO2 emissions with the Ministry of Transport. This charter sets out personalised objectives for sustainable development, mainly the reduction of CO2 emissions linked to the consumption of fuel by drawing up an overview to monitor these commitments. By this charter GT Solutions looks to continue the modernisation of its vehicle fleet and focus on the development and use of electric and hybrid vehicles.GT Solutions concluded on-road engineering tests of the Volta Zero in Paris during September 2022.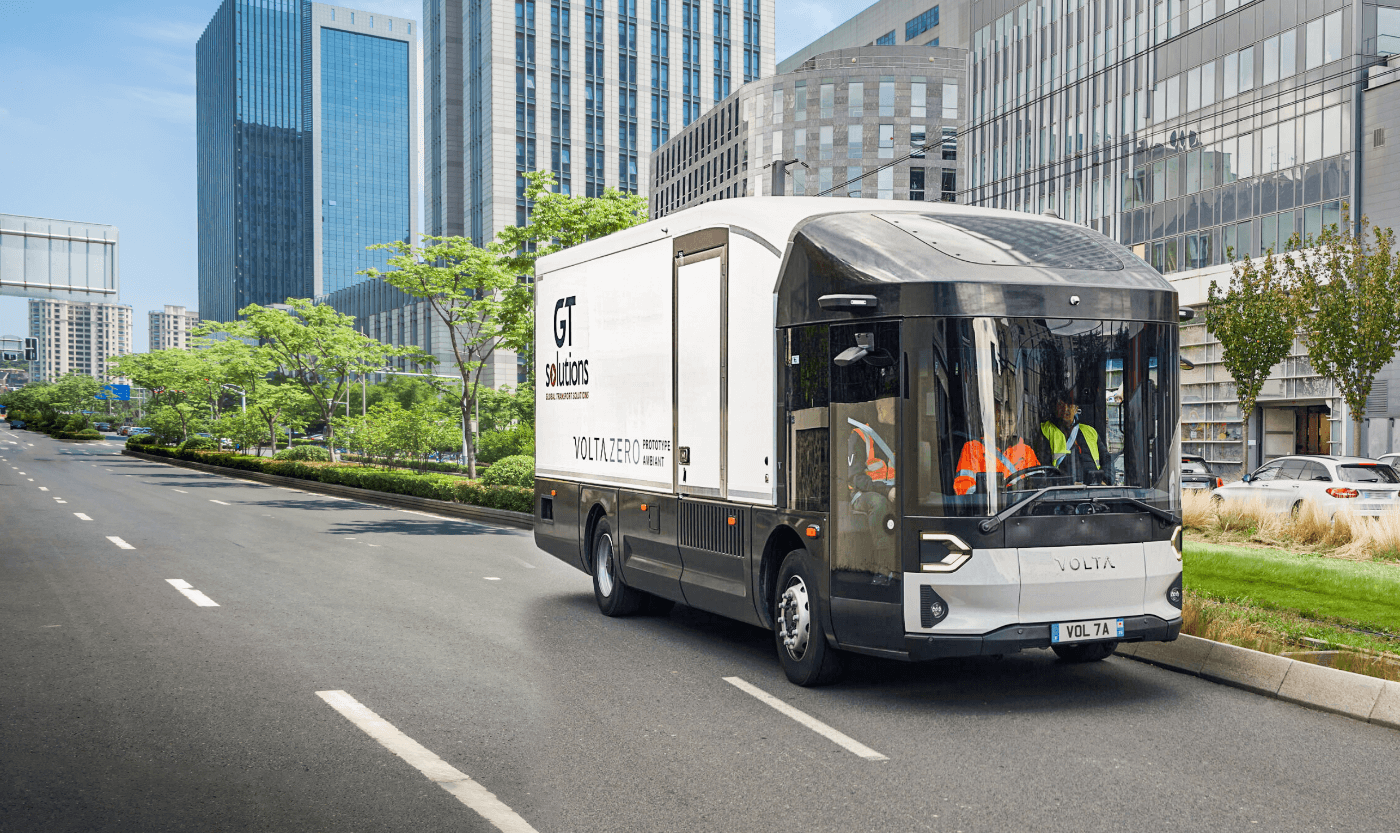 The Volta Trucks solution represents a major step forward in the decarbonisation of transport and enables our customers to plan for the future of urban delivery."
In the Driving Seat
The people & stories behind delivering full- electric trucks.
What the Media think
Hear what the media & press have to say about the Volta Zero and our journey as a company.
Volta Zero
The world's first purpose-built 16-tonne electric truck.
Electrification Guide
A guide to starting your commercial vehicle fleet electrification journey.
Latest News
Follow Volta Trucks, on its journey to delivering safer, cleaner cities.
Contact Us
For more information on Volta Trucks, contact the team today