Delivering electrification at speed and scale; how a redefined approach to truck financing is accelerating the shift to a more sustainable future
By Casper Norden, Volta Trucks Chief Fleet Solutions Officer and Alexandre Cleret, Head of Fleet Financing | May 2023

Creating sustainable, electric trucks was just the start. To help make this a reality for fleet operators, we've made them easier to finance too.
Transitioning your commercial vehicles to electric is at the forefront of each and every fleet operator's strategy. It's a critical lever in reducing carbon emissions and meeting emission-related targets set by local governments. Internal combustion engine trucks are currently responsible for a disproportionate 23% of road-going CO2 emissions, despite accounting for only 2% of vehicles on the road.
The statistics are evidently compelling, as is the fate of our cities, communities, and quality of life without action. Electrification of vehicles is vital in reducing the significant impact of CO2 tailpipe emissions on climate change and poor air quality in our cities. Businesses and fleets need to not only make the switch, but to fast track their efforts so they have the best possible chance of success.
The prospect of embracing electric commercial vehicles, however, presents a conflict for fleet operators. The transition is a balancing act influenced by the risk of introducing new technologies into an established business operation, alongside a focus on embracing carbon reducing solutions to meet corporate and government sustainability objectives.
Importantly, business and fleets alone cannot bear this technology risk. Without access to turnkey finance and ownership solutions, the transition would take too long or be implemented as a key strategy too late.
"Simply facilitating the transition however is not enough. Our services, products and packages need to accelerate this transition for customers, at speed and scale to have a real impact on reducing carbon emissions."
Fleet financing redesigned for electrification; mitigate residual values, remove high upfront costs, reduce uncertainty
Our Truck as a Service (TaaS) finance solution is designed specifically for electric trucks. Delivered through our innovatively structured top-tier financial partnerships, Volta Trucks has secured significant funding to accelerate the decarbonisation of commercial fleets. This offers customers straight forward access to bespoke finance options that reduce their transition risk and yet deliver competitive total cost of ownership.
"Each of our funding partners evaluated and assessed the components and performance of our vehicle. This gave the seal of approval to the Volta Zero's robust build quality, market value and operational longevity, as well as translating into competitive rates for our customers." Casper Norden, Chief Fleet Solutions Officer
Simply facilitating the transition however is not enough. Our services, products and packages need to accelerate this transition for customers, at a speed and scale to have a real impact on reducing carbon emissions. A critical component which sits at the core of this for business, is access to the right fleet financing.
As we developed TaaS, we learned that for most businesses that are trying to transition to electrification, a traditional Finance Lease solution was no longer fit for purpose. This approach bares too much technological risk as the business becomes the owner at the end of the agreement and therefore vulnerable to unpredictable residual value. At this moment in time, for many businesses it does not make commercial sense to choose this solution.
"It's all about a business's ability to manage or absorb risk. Financing is critical yes, but it's the type of financing solution which will really make a difference. The commercial vehicle industry is at a tipping point balanced by sustainability objectives and residual values; the value of an ICE vehicle is depreciating as electrification gains momentum, however the new technology used in an electric commercial fleet, from a customer's point of view, presents unknowns on the value of the vehicle at the end of a finance agreement." Alexandre Cleret, Head of Fleet Financing
To enable and accelerate fleet electrification today, a different type of lease is required. Through TaaS we offer what's called an operating lease. It mitigates the perceived risks of transitioning to new technologies and so is the optimal solution for electric vehicles.
The operating lease works through monthly instalments and are based on the truck's partial value – the list price minus its residual value – over a fixed period. Then, at the end of the agreement, which can be up to 8 years, customers simply hand the vehicle back without any additional costs or considerations. This removes ownership linked risks and business uncertainty on the future value of the vehicle.
Evaluating Total Cost of Ownership is also an important part of an electric truck procurement strategy. Electrical energy costs less, when compared with diesel. Maintenance and servicing needs are fewer on an electrical vehicle too. However, given the higher sale price and infrastructure costs of an electric truck, if purchased outright it can take time to completely offset these against the reduced operating costs. Finance solutions relieve this, smoothing out theupfront investment over the holding period of the vehicle. Factor in government incentives and subsidies, and the total costs of electrification on a TCO level creates an even more financially compelling picture for fleets making the transition.
Ultimately, as part of Volta Trucks' commitment to making cities safer and more sustainable, Truck as a Service de-risks, accelerates and simplifies the transition. As of today, our operating-lease solution delivers on this commitment and enables TCO competitive fleet electrification at scale, without risk.
An electrification ecosystem designed to accelerate, de-risk and simplify each fleets transition
We don't just stop at financing solutions. Accelerating the transition and simplifying the process for our customers is underpinned by a much wider and more holistic framework of services, support and infrastructure to enable customers to make a risk, and stress-free, transition.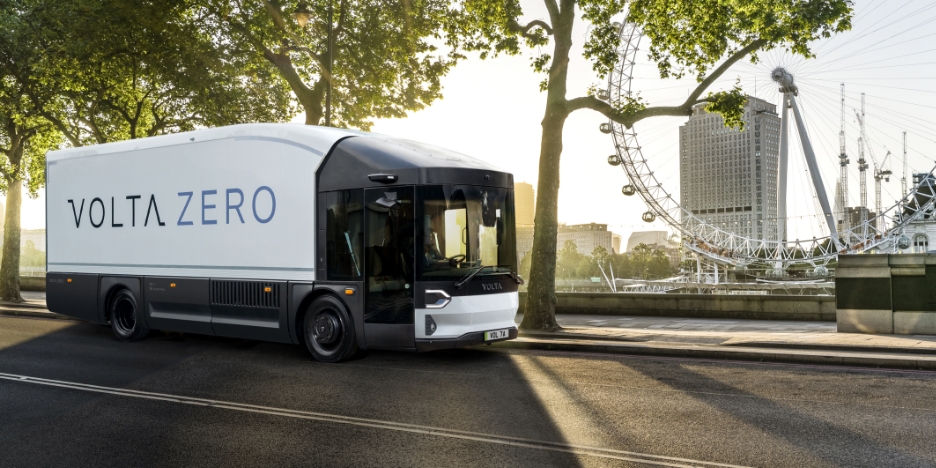 "Truck as a Service is a critical enabler of commercial fleet electrification. It's built on two key customer-focused principles; to reduce the risk of electrification and accelerate the transition. It is an EV ecosystem of support, services and infrastructure aligned to each customers use case, delivered through a range of turnkey solutions which are innovatively packaged within an all-inclusive ownership solution". Casper Norden, Chief Fleet Solutions Officer
A specific example of Truck as a Service includes a range of charging infrastructure depot solutions from plug-and-play to permanent installations, maintenance and service packages that keep each Volta Zero moving no matter what, and insurance which protects drivers, operators and businesses from the unexpected. In addition, customers benefit from telematics to fully optimise their logistics operations, electrification services to define and design their electric transition and training on the unique characteristics of the Volta Zero, its maintenance and operating best practice.
To recognise the full benefits of electrification, due to its integrated design we recommend customers take our full TaaS solution. It enables efficient ownership and operations, optimising uptime and supporting each fleet's full transition. But should a fleet have existing capabilities in place, a flexible modular approach can be created to identify and fulfil any gaps in the transition to electrification.
In summary, TaaS is a total 360-degree EV ecosystem of support, built on two key customer-focused principles: to reduce the risk associated with electrification and to accelerate each commercial fleets transition, reducing carbon emissions and the impacts of climate change.
It no longer makes commercial sense for businesses to choose traditional solutions in reaching these goals – instead they must consider the most appropriate finance and purchasing model, defined by their ability to absorb technology risk, whilst optimising their TCO. An operating lease is the optimum solution for operators looking to reduce ownership-linked risk and upfront costs of transitioning to electrification.
Truck as a Service offers an end-to-end EV solution which can be leveraged as a complete package, or through individual components. Therefore, we believe that Truck as a Service is the critical enabler of commercial fleet electrification.
Learn more about our top-tier finance partnerships with DLL here and NEoT here.
Truck as a Service
See how Truck as a Service revolutionises
vehicle ownership.
Volta Zero
The world's first purpose-built full-electric 16-tonne commercial vehicle.
Contact Us
For more information on Volta Trucks,
contact the team today.